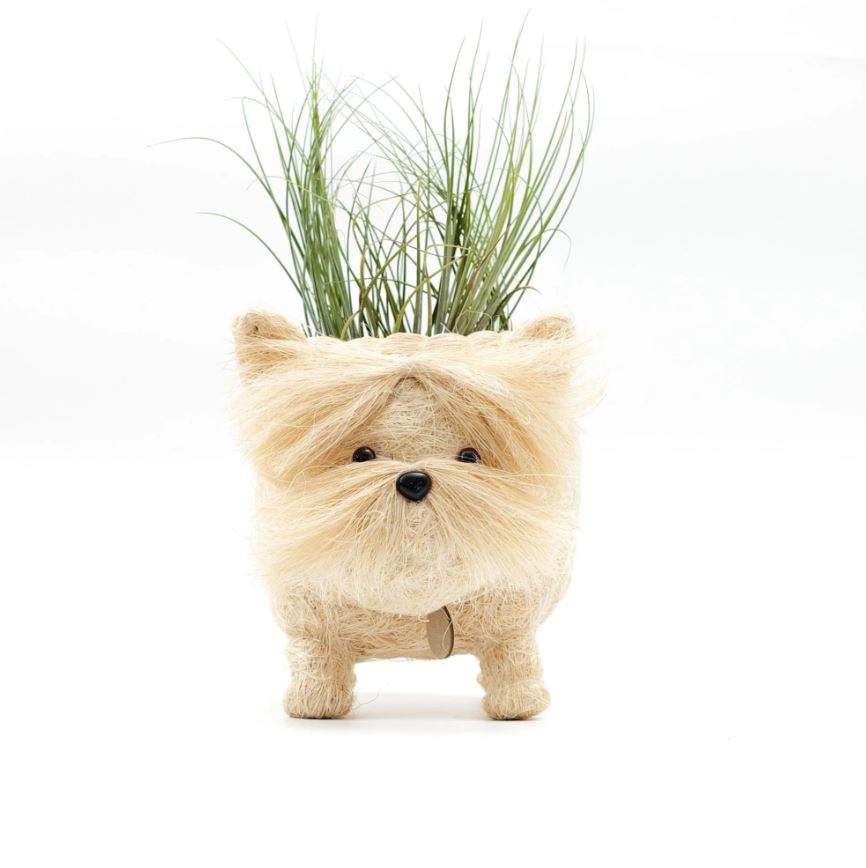 Animal Planter - Westie
$ 65.00
This adorable westie hails from the Scottish Isles and is ready to make its way onto your shelf. A handmade coco coir planter pot that is sustainable and biodegradable. Leash not included! Each purchase empowers artisan communities in the Philippines.
Dimensions: Approx. H6.5" x W5.5" x L11"

Material: Coco coir
Color: White
Handmade in Philippines
Fair Trade, Sustainable
Best used with a pot or liner to keep your animal planter dry. Display indoors for longer lifespan. Due to the nature of materials and the handmade production process, no two pieces are exactly alike.
Due to the nature of materials and the handmade production process, no two pieces are exactly alike.
LIKHA MEANS "TO CREATE" - A CELEBRATION OF CRAFTSMANSHIP
Their mission is to empower artisan families to overcome poverty by reimagining time-honored local craft for the global marketplace.
Likha features a collection of sustainably-sourced, ethically-made pieces ranging from home décor to fashion accessories. Their products are crafted from natural, eco-friendly materials including natural straw and plant fiber, coco coir, sustainably-sourced shells, and recycled wood. Designed in collaboration with their artisans, each item is painstakingly made by hand and features a blend of intricate traditional techniques and modern design.

They stand on the pillars of design, tradition, and inclusion. As a social enterprise, they work with communities in the Philippines to bring beautifully handcrafted pieces into the global market. Their makers are spread across the country, each with craft specific to culture, methods, and materials native to their region. They aim to provide more than just livelihood - through their partnership with local artisans, they hope to help uplift their status, develop their confidence and sense of self-worth, and uphold their dignity as craftspeople.
Their Manifesto:
1. Beautiful things belong in beautiful homes.

2 Art, like artists, come in all shapes and sizes.

3. One product made by hand is worth ten made by steel.

4. Handmade products, through rare, should not be exclusive.

5. Traditional materials breathe life to modern settings.

6. Makers should get a fair share.

7. Everyone who cares about where their stuff comes from has every right to do so.
Related Products