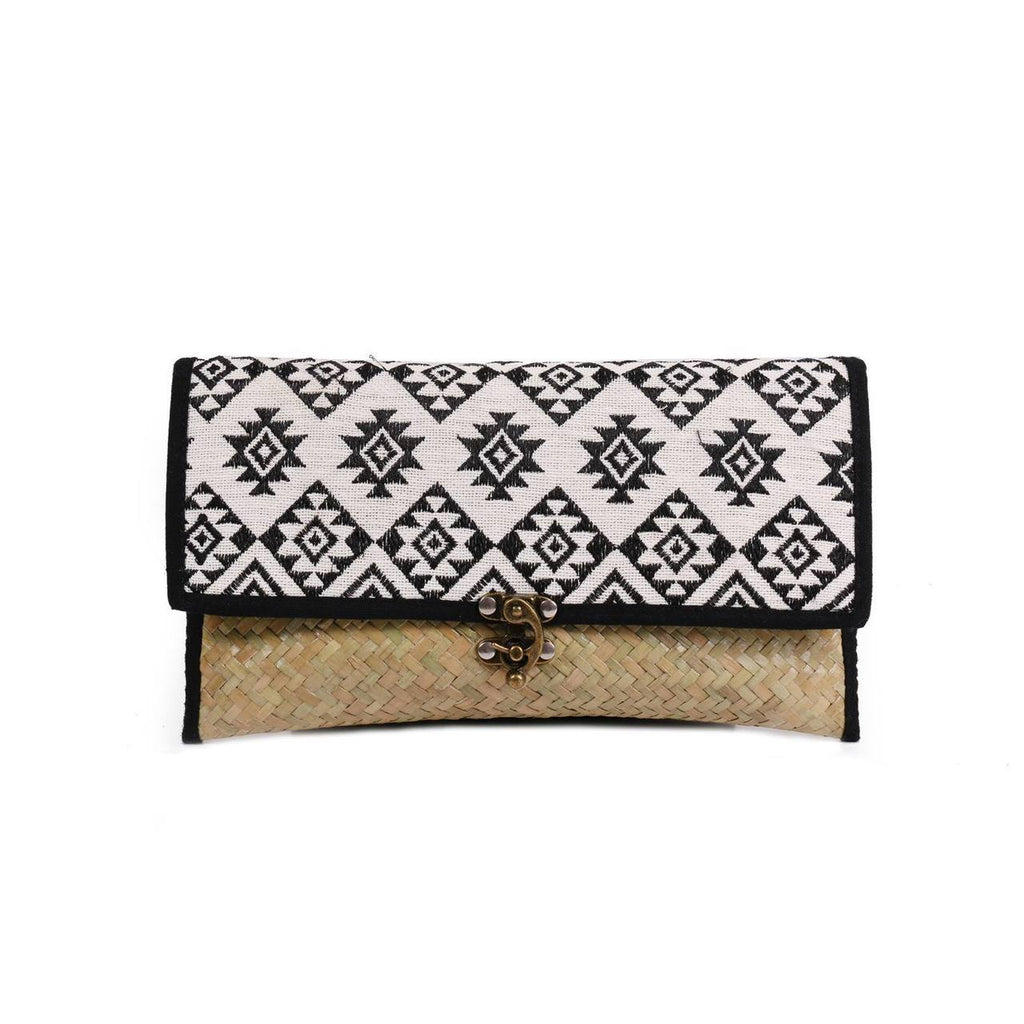 Diamond Rattan Clutch
$ 50.00
Our Diamond Rattan Clutch is handcrafted from unique embroidered fabric, a contrast of black string on white. The body of the clutch is rattan and is finished with a beautiful piece of hardware as the closure.
10"W x 6"H
Color: Natural w-Black/White
Primary Material: Rattan
One main compartment that closes with flap over tab and hardware closure
One of a kind design; each is unique and handmade
Handmade in Thailand
Lumily was originally founded by Giovanna Mantilla in 2008.  It began while she was traveling through Central and South America after leaving the corporate life behind. She was walking down an alley in a small town called Panajachel, which is on the shores of the majestic Lake Atitlan in the highland region of Guatemala. She came upon a woman making the most beautiful beaded belts with an old wooden loom in a room not much bigger than a bedroom closet. Her name was Rosita and an idea was born.

Since then, Lumily has grown to partner with over 150 artisans in three (3) countries and now carries more than 800 products. However, the purpose remains the same: to provide economic opportunities in poor and destitute areas while at the same time preserving cultural traditions and craft making techniques that have been passed on for generations.
Our handcrafted, fairly traded items represent relationships, sustainability, and hope. More than their beauty and craftsmanship, it is truly the stories that make them come alive. Rosita sat on a 12" stool and beaded that belt. Maria created that necklace. Francisco took a traditional blouse and up-cycled it into that handbag.

Each item is carefully crafted based on cultural traditions. When consumers purchase these products, they are also purchasing the story behind them. In the end, this contributes to an enriched understanding of a global community and a better life for everyone.

In keeping with Fair Trade principles, Lumily also contributes a portion of its profits to fund school tuition and books, medical procedures, housing allowances, food accounts, and more.
Related Products