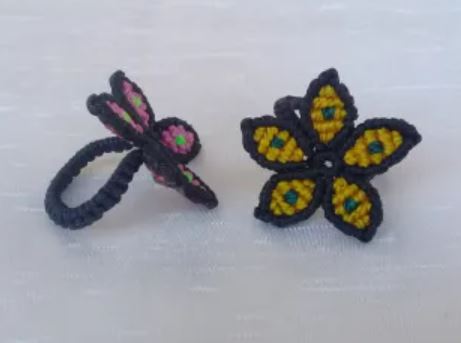 Alma de Colores Macrame Flower Rings
$ 8.00
These Alma de Colores macrame flower rings are handmade with love by artisans with disabilities in Guatemala. They are a fun way to playfully style your outfits while being super comfortable to wear. They come in a variety of colors.  Wear one with the Alma de Colores macrame flower earrings too!
Handmade in Guatemala
Colors: Assorted
Each is unique and one of a kind

One size fits most (not adjustable)
Fair Trade 
The Alma de Colores is a labor and social inclusion workshop for people with disabilities in Lake Atitlán, located in San Juan la Laguna. The project works with more than 26 people between the ages of 16 and 44, empowering them in five areas of work: crafts, sewing, bakery, organic garden, and a cafe and dining room. The program is part of Centro Maya Servicio Integral, an organization committed to the issue of disability since the 1990s. Alma de Colores responds to the need to empower and create labor and social inclusion for users of Centro Maya who are reaching age adult.
Alma de Colores users receive a fair income through a therapeutic scholarship and other benefits such as therapies, transportation, a health insurance fund, and an interest-free loan system to finance their education or their own business. Alma de Colores exists thanks to the support of various organizations and the sale of products from the workshops.
The craft workshop was the first to be implemented in 2011. Since then it has been constantly growing, improving the quality of its products and developing the techniques that are shared with users to empower them with new knowledge. Currently, original and creative products are made in macramé and jewelry, using only local seeds and recycled material. The products are commercialized in the local and international market.
Objective : Promote a social business model for the social and labor inclusion of people with disabilities.
Principles : Justice, empowerment, inclusion, solidarity, human rights and environmental sustainability.


Related Products