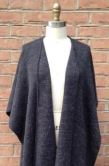 Alpaca Blend Ruana Knit Wraps
$ 88.00
Alpaca Blend Ruana Knit Wraps
A Ruana is a poncho-style wrap originating in Peru's Andes Mountains. They are very versatile, can be worn many ways!
Alpaca is getting a lot more attention these days, now that people are starting to notice how it tends to outperform other fibers like wool and synthetics. And why shouldn't it? Alpaca fleece has been around for millennia — even the ancient Incan kings recognized the alpaca's unique qualities and reserved the "fiber of the gods" for use by only the wealthy and influential.
Alpaca is a breed apart when it comes to natural fibers. Stronger, softer, lighter, and warmer than either merino wool or cashmere, it's a natural choice for winter clothing and accessories. It's also resistant to pilling and won't shrink if proper care is given, making it possible to keep your alpaca clothing for years, even decades!  Blending alpaca with wool gives these ruanas an added edge with wear and care.
MATERIAL: 20% Alpaca 80% Wool
ONE SIZE:  48" X 70"
COLORS: Black, Lago Blue, Navy, Granite Grey, Olive, Terra Cotta, Lt Grey, Periwinkle, Vino Tinto, Pecan, Classic Red, Raspberry, Teal, Bright Pink, Saffron Yellow
Made in Peru at a family owned knitting mill in Cusco
DRY CLEAN or Hand Wash cold water, Dry flat
The Winding Road takes you across the globe to discover beautiful and handmade scarves, shawls, handbags and children's toys. They are driven by exploration, discovery and the story, people and culture behind each item.  They look for eco-friendly fabrics and are committed to seeking out small suppliers that follow fair trade practices as much as possible to produce their goods.
Related Products