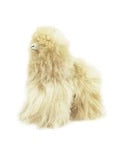 Alpaca Plush Animals - Alpaca 9"
$ 45.00
Shupaca's selection of alpaca plush animals will provide years of imaginative playtime and infinite doses of superior snuggling. Handmade using 100% super-soft alpaca wool from the Highlands of Peru. The collection's excellent quality and charm ensure that these cuddly creatures will be a welcome addition to your plush animal collection or to the cozy interiors of a playroom, nursery, or bedroom. They make the perfect gift too for the pet-lovers, the adventure-seekers, and those with the penchant for all things adorable. This is definitely the softest stuffed animal you will ever touch. 
Made from sustainably-sourced 100% Baby Alpaca 
One size: 9" Alpaca Small
Colors: Blonde, White, Caramel, Two-Tone, Mocha
*Please note color will vary from photo
Care Instructions: Spot wash with mild detergent
PLEASE NOTE: These items have not been tested for children's safety and are not recommended for children
Shupaca works with South American artisans and their families to ensure products that exude indigenous quality while remaining fashionably relevant to the here and now. All products are hand woven on wood looms using the same methods that have been practiced for hundreds of years. Shupaca presents a full catalog of solid and printed scarves, shawls, blankets, hats gloves and other accessories that promise to revamp and complete daily wardrobes, regardless of the season or climate.
Their goal is to bring you one of the world's finest natural materials in uniquely designed and handcrafted goods while promoting fair trade and supporting social and economic advancement for the artisans they work with.
Related Products