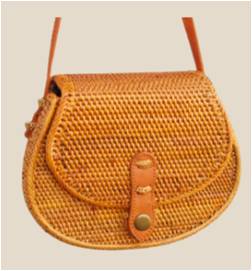 Ata Grass Saddle Crossbody Bag
$ 78.00
Hand crafted by Balinese women working from their homes in the Tenganan Village in Eastern Bali, this Saddle/Ata Grass Crossbody Bag is a work of art. It's a practical choice for everyday use, medium sized, hard case rounded bag with a handwoven cross design and adjustable strap. Big enough to fit the essentials, including the iPhone plus.
The women are master weavers with skills that have been passed down and perfected over many generations.  Did you know it takes ONE MONTH to make one Rattan bag? That's because each of our Bali Bags is handcrafted from start to finish by artisans in Bali.  After the bags are woven, they are dried under the sun for several days, then hung over a fire, the smoke and heat from the fire gives them their golden color and cures them and makes them hard and durable, ensuring that the bags will last a lifetime.
*Leather straps

*H
a
nd sewn batik print fabric lining
*Leather tab and snap closure (Please note: slightly different than the photo)
*Size: Medium - Approximately 7.5" x 6" x 3.5" - fits cell phone perfectly!
*Each is handmade and unique
Due to being handmade, no two bags are identical. There can be slight differences in the size and coloring of each bag.
*Fairly traded in Bali
*Color: Natural 
The Winding Road takes you across the globe to discover beautiful and handmade scarves, shawls, handbags and children's toys. They are driven by exploration, discovery and the story, people and culture behind each item.  They look for eco-friendly fabrics and are committed to seeking out small suppliers that follow fair trade practices as much as possible to produce their goods.
Their market baskets are handwoven in rural villages in Morocco where basket weaving is one of the oldest traditional crafts passed down from mother to daughter.  The baskets are collected from the villages and brought to their workshop in Marrakech where decorative handiwork is done by local artisans.  
They are made to stand up to everyday use in the Markets of Marrakech or the farmer's market in your home town.  Use them for stylish picnic baskets, beach bag, handbag, overnight bag or home decor.  Each basket is handmade and unique which is what makes them so special.
Related Products