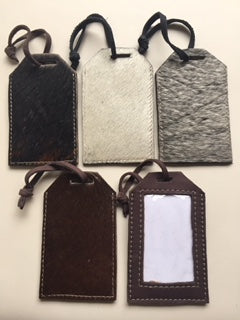 Cowfur and Leather Rectangular Luggage Tags
$ 30.00
Cowfur and Leather Rectangular Luggage Tags
Let your luggage stand out from the crowd with our uniquely designed and ethically sourced luggage tags from Africa.  These little babies are the perfect gift for that girl or guy needing something super special!
One of a kind chic luggage tags made from 100% food supply sourced local cow and goat hides with a zero waste mandate to use every scrap.
Approximately 4 1/2" L x 2 3/4" W
Assorted - Request your color preferences (chocolate or black/grey) in the note section of the order and we will do our best to accomodate.
*Note no two alike due to natural variations in fur pattern
Made in Kenya, Africa
THE OUT OF AFRICA COLLECTION
Chic 
bag accessory designs with a unique African feel. Exquisite artisan craftsmanship using supple, locally tanned cowhides, suedes and cowfurs in fashionable colors.  Featuring locally
 sourced embellishments such as "Angoni" cow horn. This cottage industry has revived leather craftsmanship in the area with training initiatives and fair trade employment, while salvaging cowhides that otherwise would have gone to waste.
LOTUSLAND is rooted in ethics. Fair Trade Curated Luxury Collections, every item is produced sustainably, acting as a vehicle for positive humanitarian and environmental change -- and the result is pure beauty.
Related Products