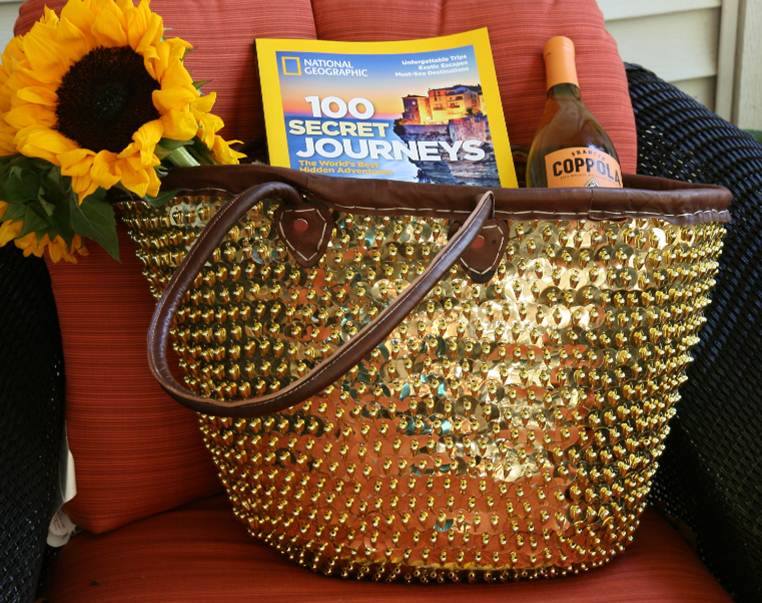 Gold Sequin Large Market Basket With Leather Top & Handles
$ 108.00
Hand woven straw market basket made from eco-friendly renewable and sustainable palm leaves, wild grasses and reeds
*Leather top and handles
*Hand sewn sequins and embroidery
*Approximately 13" high, 16" wide across top
•Each is handmade and unique
•Fairly traded in Marrakech, Morocco
*Color: Gold
The Winding Road takes you across the globe to discover beautiful and handmade scarves, shawls, handbags and children's toys. They are driven by exploration, discovery and the story, people and culture behind each item.  They look for eco-friendly fabrics and are committed to seeking out small suppliers that follow fair trade practices as much as possible to produce their goods.
Their market baskets are handwoven in rural villages in Morocco where basket weaving is one of the oldest traditional crafts passed down from mother to daughter.  The baskets are collected from the villages and brought to their workshop in Marrakech where decorative handiwork is done by local artisans.  
They are made to stand up to everyday use in the Markets of Marrakech or the farmer's market in your home town.  Use them for stylish picnic baskets, beach bag, handbag, overnight bag or home decor.  Each basket is handmade and unique which is what makes them so special.
Related Products