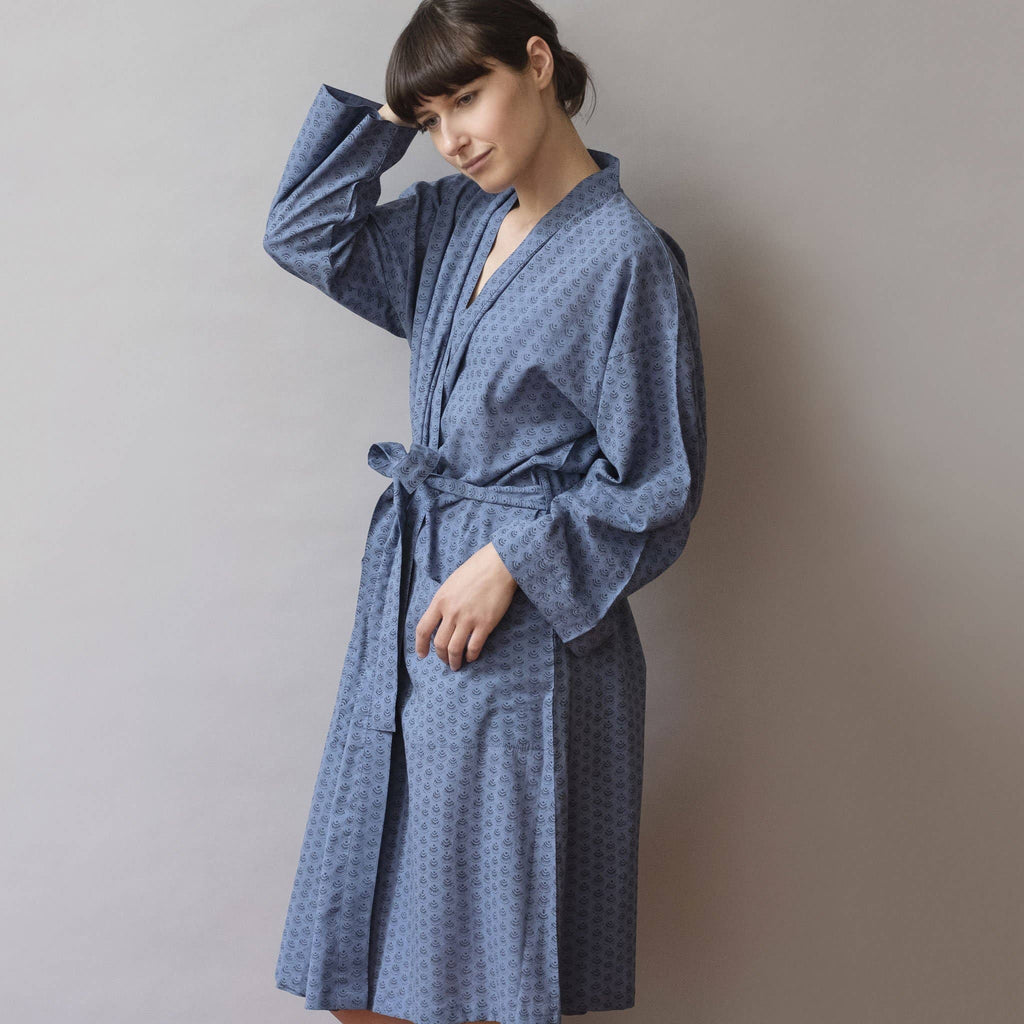 Hand-Blocked Printed Cotton Robe - Kekri Navy Blue
$ 68.00
Gauzy and extra soft cotton robes are super dreamy to wear.  This dusty blue and white print is so fresh and perfect for summer.
All natural very soft lightweight 100% Cotton
Hand-blocked printed with non-toxic AZO-free water-based dyes
"Kekri Navy Blue" has h

and-drawn off white geo print against a navy blue background 

One size - 42" long, nice and roomy

Comes with a belt for cinching

Hand wash or machine wash as a delicate on cold; air dry or tumble dry on low; iron on low if desired
Handmade in and fairly traded from Jaipur, India
Graymarket Design is a textile company rooted in modern design, casual but high quality products and ethical production. They are a husband and wife team that founded their business in 2013. Hallie Gray and Matt Goodwin collaborate with a team of artisans in Jaipur, India, to have their original, hand-drawn designs printed in small batches, and work very closely with their team there throughout the year to develop fresh and beautiful products for your life and home.
Their workshop is filled with family members sharing and passing down ancient textile traditions, preserving a lineage of handcrafting expertise. From husband/wife and father/son block-printing teams, sisters who oversee sewing, to a 4th generation tassel tying family in which grandmother's pass down the family tradition to their female family members, the artisans they collaborate with are the cornerstone of thier process.
The design process originates in Hallie's sketchbook or on pads of watercolor paper, and then travels to Rajasthan to be carved in relief into teak blocks. Their master dyer hand-dyes small batches of fabric and leaves them to set in Jaipur's famous sun-drenched air. Back in the workshop their teams of printers work in pairs to hand-block our designs, and Hallie and the printers solidify the color story and designs to produce our unique, hand-crafted products. Inspiration for the designs varies, but often comes from architecture and patterns seen travelling and the natural world.


Related Products