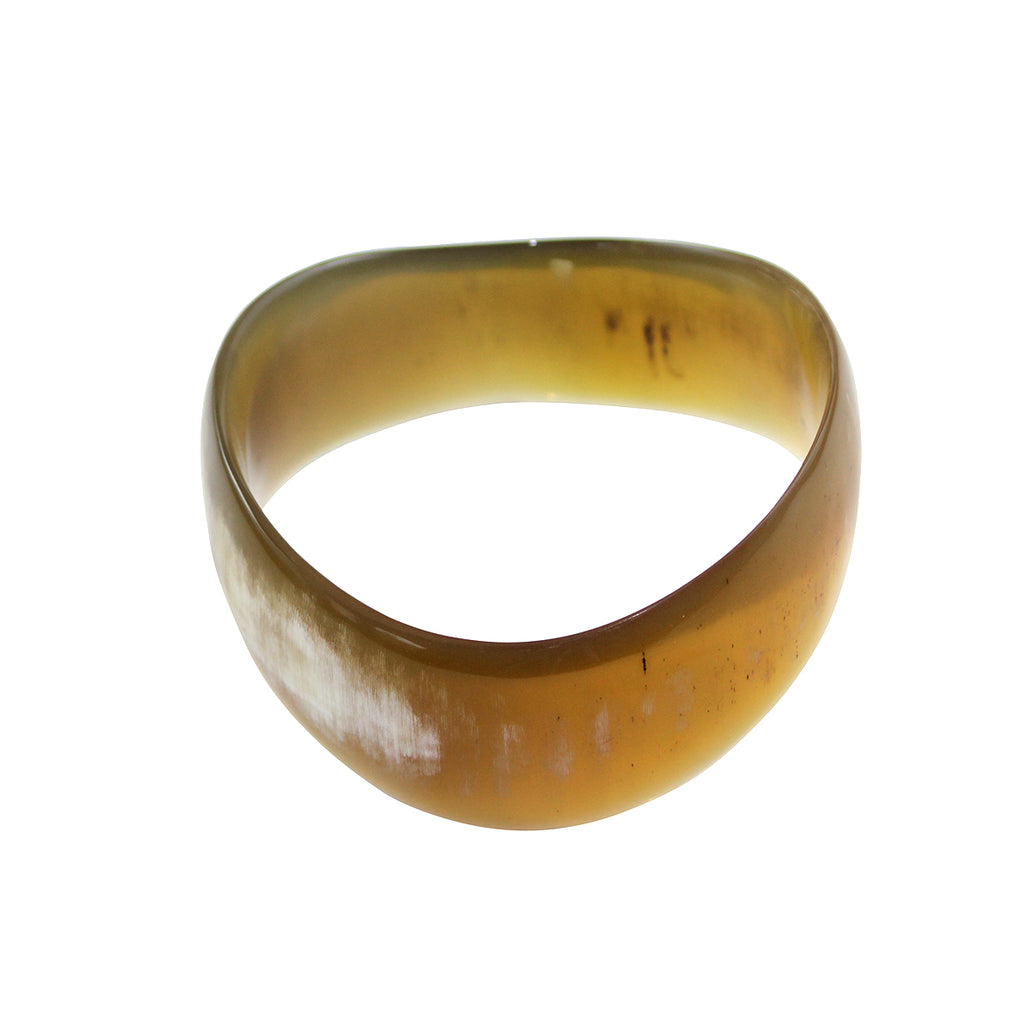 Handcarved Upcycled Bovine Horn Matte Unpolished/Brushed or Polished Bangle Bracelets
$ 38.00
Handcarved Upcycled  Bovine Horn Matte Unpolished/Brushed or Polished Bangle Bracelets
Colors: Black Grey/Brushed, Natural Poli
Sizes: S/M and M/L 
Handmade in Colombia , South America and Vietnam
$38.00 each
It is believed that when an animal is sacrificed for food, in order to thank and honor the animal, you must utilize all of its parts, including his hooves and horns. These jewelry pieces from Belart are made from non-endangered bovine horn and leather. 
Belart is proud to support a unique line of handmade horn bracelets designed by Wayuú women artisans from the Northern Guajira Desert region of Colombia, South America and from South East Asia's isolated, rural villages in Vietnam .
The Wayuu natives are descendants from the Guyanese Arawak Tribes, and are one of the few native tribes who successfully resisted the European domination dating back to Christopher Columbus. They are also nomads with a legendary background, where ancestral craftsmanship is centered in art and everyday pieces made from cotton, virgin wools, animal hide and horn.They are one of the few native tribes who have resisted the temptation of the use of synthetics and plastic and have continued the virtually lost art of making utensils from horn.
Vietnam is the 2nd largest worldwide exporter of rice, and the 7th worldwide consumer of rice.  80% of Vietnamese are engaged in rice cultivation.  Water buffalo is an honored and important animal in Vietnamese culture. Thousands of massive water buffalos are used for tilling the rice fields all across the country.  
Belart's Up-Cycled horn is collected under FTF and WFTO practices assuring that the horn utilized, is discarded horn from animals that have died from old age, from shedding and from animals that have been used for meat consumption.  For rural Vietnamese, of whom 11 million live in severe poverty, economic opportunities are scarce. As an FTF member, we work and partner with WFTO / World Fair Trade Organisations, creating a positive impact on the lives and communities of these rural artisan groups, by nurturing sustainable relationships, opening international markets for their products, and by abiding by Fair Trade principles.
Belart is a proud member of the Fair Trade Federation and its timeless pieces are designed in Vermont and thoughtfully handcrafted  under fair trade practices in Colombia and Vietnam, where artists transform the wild, indomitable bull's horn, into soft, docile works of unique artistic beauty.
Related Products