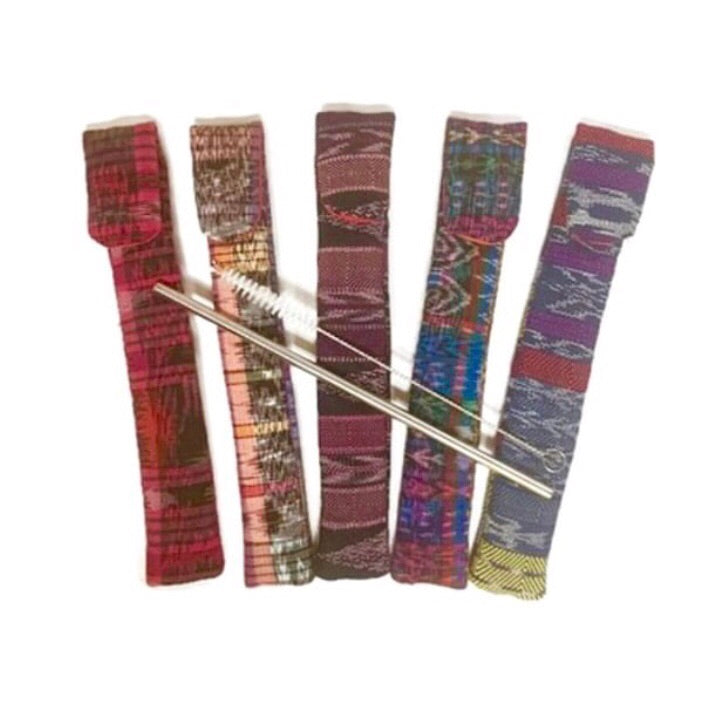 Reusable Stainless Straw Kit
$ 16.00
No plastic necessary with this eco-friendly, reusable stainless steel straw kit.  The bag is made by re-purposing traditional Mayan women's skirts called cortes.  Cortes are made on traditional foot looms using ancient techniques to create intricate patterns on the fabric.  Once a woman has worn the skirt for some time, she sells it to buy a new piece for herself.  They then re-purpose these skirts to beautiful items such as our reusable straw bags!
The kit comes with a stainless steel straw + cleaner brush and closes with a Velcro closure.  Each is one of a kind, just like you!  Food safe; not suitable for use in the microwave or oven.
Includes straw, sleeve + cleaning brush
Straw: 8.5" , Bag: 9.5"
Information card included
Handmade in Guatemala
Assorted colors; let us select one for you
Fair Trade and handmade
Lumily's jewelry and handbag collection is hand woven by over 150 Mayan and Hmong women artisans in the highlands of Guatemala, Mexico and Northern Thailand. 
Their commitment to the principals of Fair Trade create avenues of employment for economically disadvantaged artisans. With your help we will continue to provide an alternative source of income to these indigenous women!
Related Products