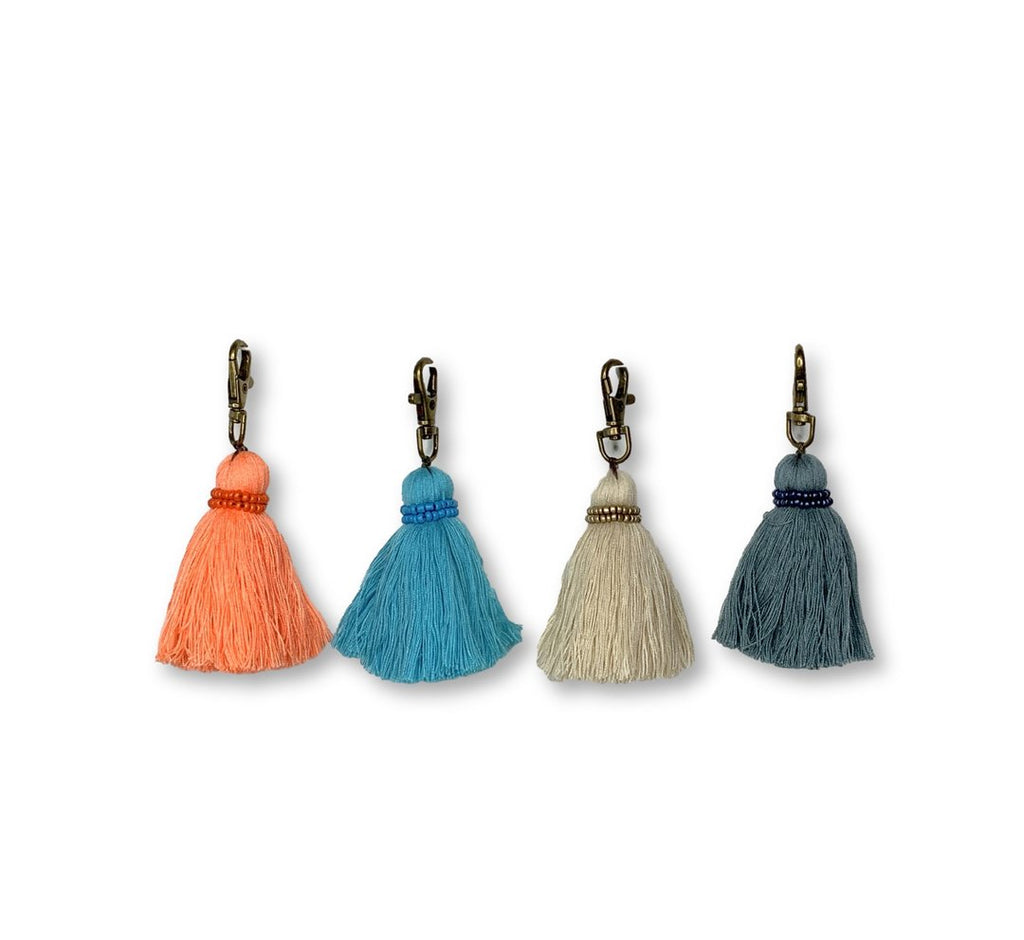 Thai Beaded Tassel Zipper Pull
$ 10.00
Thai Beaded Tassel Zipper Pull
A beautiful and elevated key ring / zipper pull is here. Made with 100% cotton fabric and finished with seed beads and a brass lobster clasp. They will for sure look great hanging from our new Poppy Striped Tote too!
* Assorted colors
* 4" in length
* Handmade in Thailand
* Made following Fair Trade guidelines

Drawing upon the master craft-making techniques that have been a part of their culture for generations, our artisans skillfully handcraft these beautiful pieces individually, combining contemporary designs with ancient traditions. This village industry provides families an opportunity to maintain the tradition of handcrafting while sharing an expression of their indigenous culture with the world. By respecting cultural tradition, creating a cooperative working atmosphere, and paying sustainable wages, these women and their families have become empowered with new skills and have an opportunity for economic stability.
Lumily was originally founded by Giovanna Mantilla in 2008.  It began while she was traveling through Central and South America after leaving the corporate life behind. She was walking down an alley in a small town called Panajachel, which is on the shores of the majestic Lake Atitlan in the highland region of Guatemala. She came upon a woman making the most beautiful beaded belts with an old wooden loom in a room not much bigger than a bedroom closet. Her name was Rosita and an idea was born.

Since then, Lumily has grown to partner with over 150 artisans in three (3) countries and now carries more than 800 products. However, the purpose remains the same: to provide economic opportunities in poor and destitute areas while at the same time preserving cultural traditions and craft making techniques that have been passed on for generations.
Our handcrafted, fairly traded items represent relationships, sustainability, and hope. More than their beauty and craftsmanship, it is truly the stories that make them come alive. Rosita sat on a 12" stool and beaded that belt. Maria created that necklace. Francisco took a traditional blouse and up-cycled it into that handbag.
Related Products